What Can I Expect In Year Four?
Fourth-year medical students are zeroing in on their areas of specialty and preparing for residency. Our students happily share their experiences at RowanSOM.
Meet Julianne
What should I expect in clinical rotations as a fourth-year student?
"As a fourth-year, our rotations are pretty varied. We have two core rotations – Emergency Medicine and Cardiology/Pulmonary, but then we also get some electives. For instance, I'm doing a Radiology next term and a two-week elective in Wilderness Medicine in Arizona. You get a great range: from being at school, to a different hub, or across the country, if you really want to."
Has there been a rotation that surprised you?
"I had a surprising rotation in Cincinnati. This was my first time being away from home for a period of time and I spent a month in Integrative Medicine rotation right next to Cincinnati, Ohio and it was wonderful. I absolutely loved it. We got to do acupuncture. We got to cook and use our knowledge of nutrition to cook delicious meals, and learned about essential oils. I think that was surprising to me, because I can really see myself using that kind of practice to have a more holistic approach to all my patients. I really loved it."
Are there other activities at RowanSOM?
"To volunteer, some of us are part of the OMM Clinic here at SOM. These patients typically have chronic pain that they have not been able to fix in other ways and they're looking for another solution for them. And one of the things that we do, is we use our skills in hands-on manipulative medicine to diagnose and treat. It's great for us as students, because we get to practice, and to interview, and diagnose, and treat our patients. But really, we're helping those who have been in pain for such a long time."
What would surprise people about RowanSOM?
"What's surprising about Rowan is how community-based they are within their system. Everybody is so helpful and so nice and they really want you to succeed. This place is definitely family-oriented and I wouldn't have chosen another place."
Do you have any advice for prospective medical students?
"A tip for incoming students would be to realize that everybody is going through everything that you are, and you are not alone. Everybody is in the same boat. You're meant to be here. You're going to be a fantastic physician. You've just got to get through all the nitty-gritty. But, as soon as you get through that, it'll be smooth sailing and you'll be so happy you made all these friends here at Rowan. "
--Julianne Barrett, Class of 2018
Meet Chanakya
What should I expect in clinical rotations as a fourth-year student?
"As a third and fourth year, your day is anything but typical. You could be having 12 hour days or 8 hour days or you could have 15 hour days"
What rotation has surprised you the most?
"I gotta say, by far, the geriatrics rotation has wowed me. You go into rotations not really knowing what to expect. And then you go through all your rotations, and then you realize there's even more medicine to be had – and that's geriatrics! It's really a top program and it's a top program for a reason.
"You get to really work with a team, I feel, on your geriatrics rotation. You get to work with pharmacists, physical therapists, social work – all within the same office, as well as psychiatrists – all in the same office or health care setting, depending on where you are in your geriatrics rotation. And it's really wonderful seeing every field connect. And really helping that patient get to a point where they want to be in their life. You're really working to fulfill your patient and the patient is a part of the decision making, which I feel is the most empowering for the patient"
What is your relationship with faculty like at RowanSOM?
"Things that were great to me about RowanSOM - not that I was necessarily surprised by it -was that there is a very engaging staff. You can access Dean Cavalieri, Dean Boyd, Dean Lambert, any of our deans at any time and their doors are always open to you. They would talk, they would listen to us. They would offer us much needed guidance to help our careers, to help us go through our next year of medical school, to get us through that next test, or that next rotation – whatever we needed."
--Chanakya Bavishi, Class of 2018
Meet Pam
What should I expect in clinical rotations as a fourth-year student?
Some of us, especially during 4th year, get to kind of specialize our interest in our rotations. I want to do rural family medicine, so one of my favorites this year was going to North Carolina for four weeks and getting to experience a rural medicine environment in a FQHC, Federally Qualified Health Center, and work with people that are in the mountains of Hendersonville."
How do you manage work-life balance?
"Creating a balance in medical school is a challenge, from beginning to end. For me, the balance comes from just being conscious of the fact that you need balance. Because if you're not conscious of that fact, you'll never obtain it. I spend a lot of time with family when I can. Self-care is incredibly important."
Are you excited about residency?
"Making plans for residency is something that we do before even entering medical school. We all have our dreams. Because I want to do everything, I've pushed myself into that family medicine category and I have two mentors in particular - Dr. Boyd and Dr. Millicent Channell - who have both been really instrumental in helping reassure me of my choices."
Why choose Rowan?
"When It comes to things that students should be aware of when they're making a choice for medical school, it's incredibly important that they find a place that feels good to them. Because medical school is very much a place where you're going to be away from home and loved ones, and these people become your family for a while. Rowan's a great place for that."
What would surprise people about RowanSOM?
"So, I think people find when they come to Rowan – and I've heard this from many people - they're surprised by how friendly everybody is. We're more into camaraderie than we are competition, and it's a culture we try to perpetuate here."
--Pam DeWilde, Class of 2018
2022/23 Fourth Year Schedule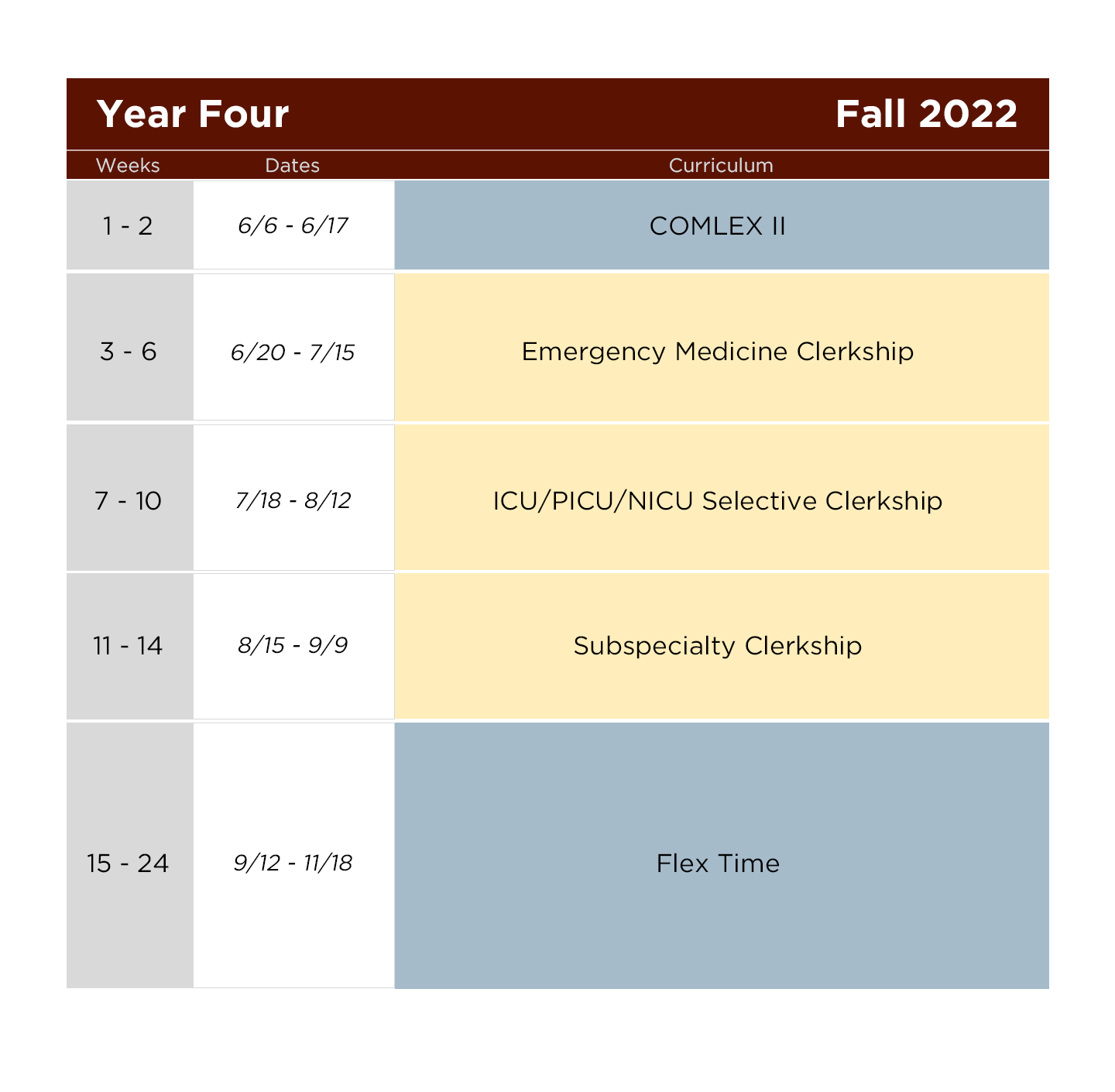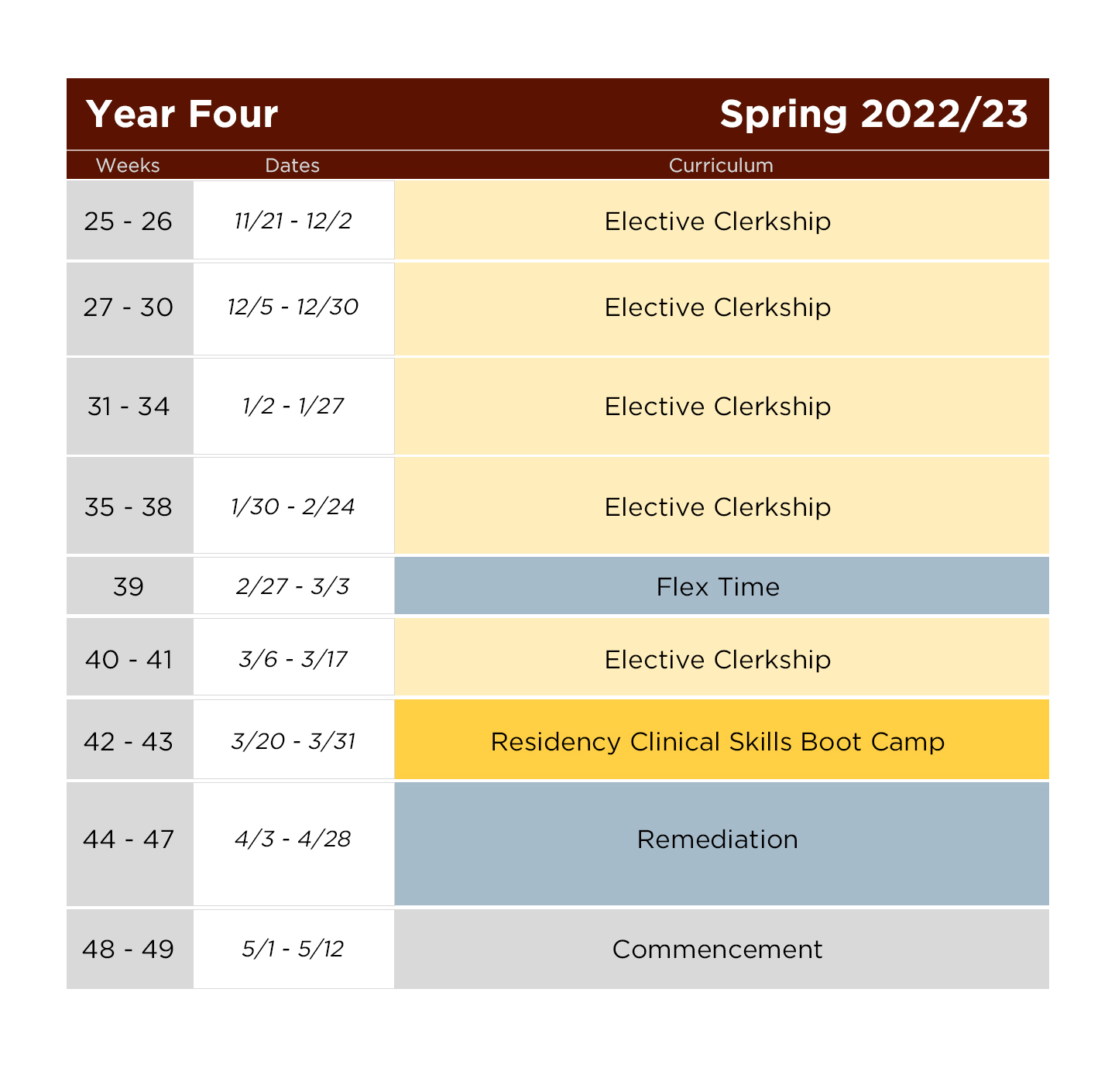 These are sample schedules only. Schedules are subject to change.