What Can I Expect In Year Three?
In your third year, clinical rotations begin. There is a lot to juggle and a lot of hands-on learning to experience, but it is all worth it in the end!
Meet Gannat
What rotation surprised you the most?
"I think surgery. There is a stereotype about surgeons and how they 'do surgery because they don't want to talk to patients,' but I realize there is so much interaction between the surgeons and their patients. They have to meet with the patient beforehand and then they continue to follow up. So, I really, really enjoy that aspect."
What is the student-faculty relationship at RowanSOM?
"The relationship with faculty is really an awesome one. I think the best thing about this school, and why I chose to come here, was because how receptive they were to our ideas and how they really cared about us. You weren't just a number. The faculty took the chance to get to know us. And I really, really enjoy that. And whenever you have a problem there are so many people that I can go and talk to."
How do you manage work-life balance?
"The biggest question that a lot of medical students get is, 'how can they balance their life with their school life?' Family and friends are a must. You need your support system to keep you close. You need to keep pursuing your hobbies."
What would surprise people about RowanSOM?
"I think what would surprise people the most about this school is to see how friendly everyone is and how welcoming everyone is. Most people aren't cutthroat, like in a lot of other medical schools. They really want to help you."
--Gannat Shalan, Class of 2019
Meet John
Tell me about clinical rotations
"I'm actually rotating at Christ Hospital in Jersey City, which is my hometown. I saw a lot of people in the neighborhood health clinic at Christ Hospital, which was an amazing experience. A lot of people who came from other places, so I learned just as much anthropology as medicine, I guess you could say, during that rotation.
"What I've really come to appreciate this semester is how so many skills in medicine are transferrable from one service to the next."
What rotation surprised you the most?
"I was always so happy to go to work every single day when I was on ob/gyn. It's such a special moment you get to share with the mom and the family. And then often I would find myself looking after the baby in the nursery for several days afterwards. Now, I'm on pediatrics and I've felt like the transition from ob/gyn into pediatrics has actually been pretty seamless, because I've been doing the continuity thing from day one."
Why choose Rowan?
"One of the better things about SOM as an institution, is that there are physicians from all walks of life. Every creed, every color, every background. You can find yourself in a faculty form - no matter who are or where you come from - at SOM. And the mentorship that I've received here has really made a difference in terms of my medical education."
How do you manage work-life balance?
"I would say developing a work-life balance is just as important a lesson to learn as anything else in medicine. You really need to prioritize self-care when you're studying a degree program that is as intense and demanding as medicine tends to be. Outside of that, I believe that there is a social component to our overall well-being. You need to make time for friends, for loved ones."
Do you have any advice?
"You really need to take into account that it is a marathon, not a sprint. So, you want to be choosy. You want to be selective with your medical school. You want to go to a place where you feel welcome, you feel at home. Go where you feel comfortable. Go where you are well-received. Make the most of your four years, because your training time really is sacred. You can't do this ever again. You can only do this once, so make the most of it."
--John Zadroga, Class of 2019
2021/22 Third Year Schedule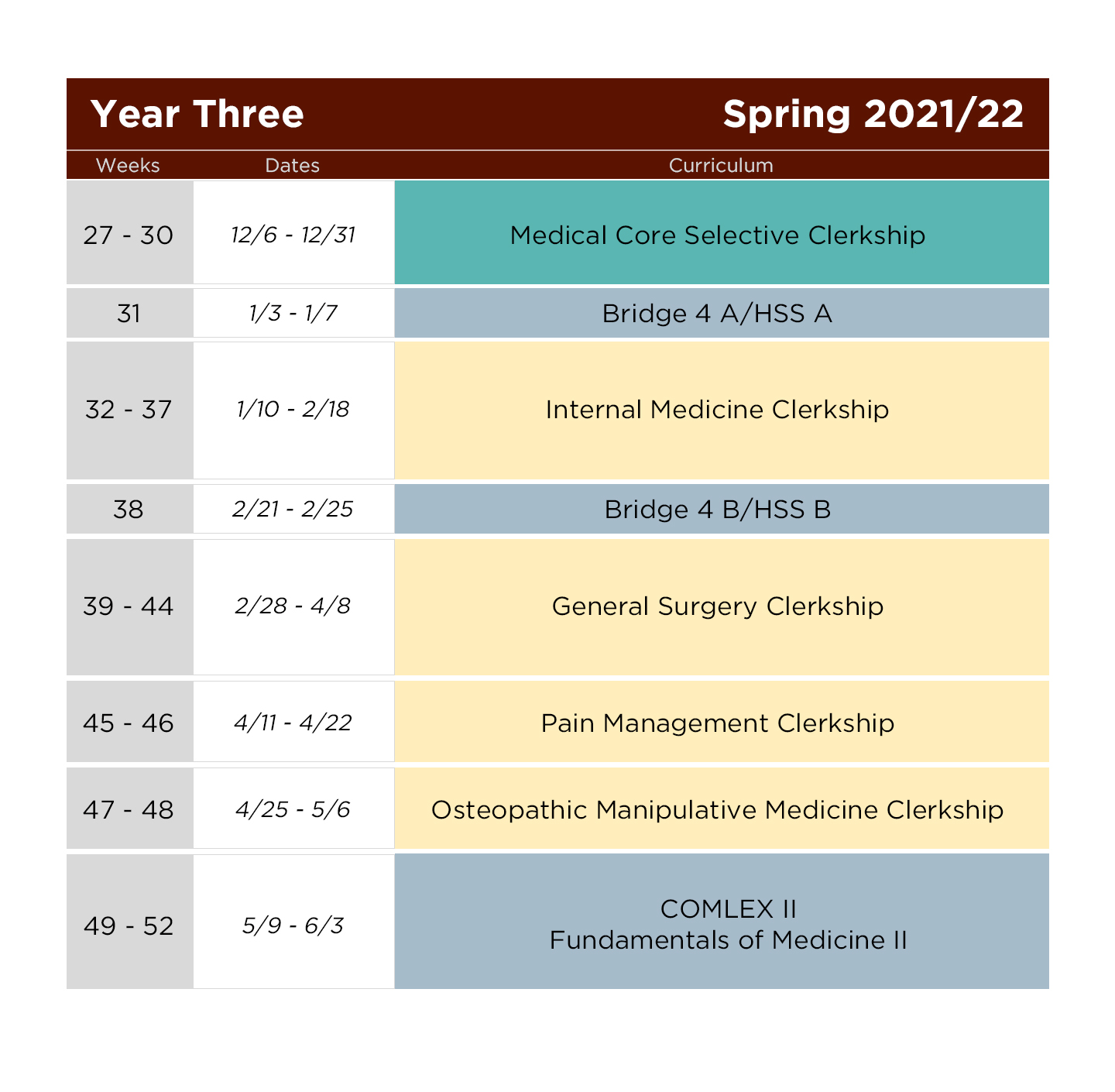 These are sample schedules only. Schedules are subject to change.