A Message from our Program Director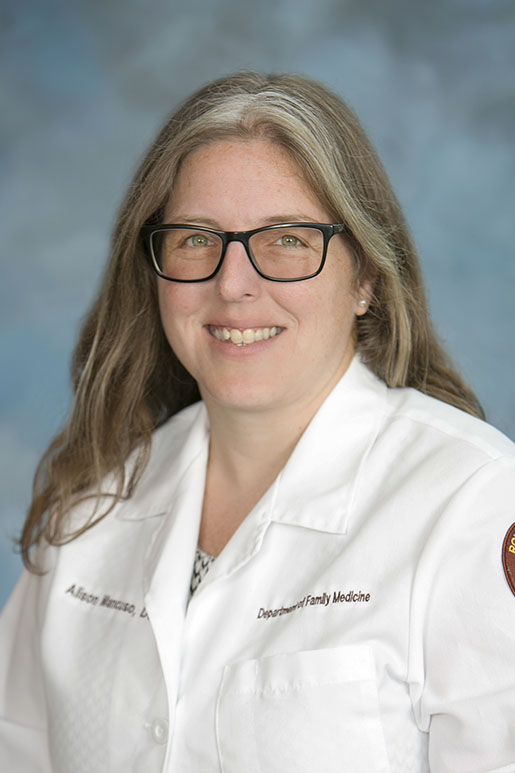 Thank you for your interest in the Family Medicine Residency program here at Rowan-Virtua School of Osteopathic Medicine! In these uncertain times with a global pandemic hampering our usual activities, I hope that you are able to find useful information about our program on our website.
Rowan-Virtua SOM has been serving the community of Southern New Jersey for over 40 years. It began as the University of Medicine and Dentistry of New Jersey-School of Osteopathic Medicine (UMDNJ-SOM). When the medical school was founded, the Family Medicine residency was one of the first graduate medical education programs affiliated with the school, partnering with our local hospitals, Kennedy Health System and Our Lady of Lourdes Medical Center. We've been training patient-centered Family Physicians in our region for 40+ years!
We strive as a school and a program to promote a work and learning environment that is diverse, inclusive and equitable. While our nation has a far distance to go in the realm of racial justice and equity, our program faculty and staff are committed to ensuring that each member of our team is valued, listened to and respected for their ideas and experiences. We welcome feedback and idea sharing that helps us keep our program moving forward in this domain.
Over the course of time, our hospital partners have entered new partnerships and changed their names, but not their missions. We are proudly still affiliated with Jefferson Health New Jersey (formerly Kennedy Health System) and Virtua-Our Lady of Lourdes Hospital (formerly Our Lady of Lourdes Medical Center).
I am happy that you have taken the time to look into our program. We are here to answer any additional questions you may have. Please feel free to drop us an email anytime!
Sincerely,
Dr. Mancuso
Alison Mancuso D.O., F.A.C.O.F.P.
Residency Program Director
Associate Professor & Vice Chair
Rowan-Virtua SOM Department of Family Medicine
Contact Us
We are always open to questions that applicants may have and encourage you to contact us via our dedicated applicant email address:
FMApplications@rowan.edu
"What are the strengths of your program?"
Our people are our greatest asset. The faculty, staff and residents in our program work together to create an environment that is conducive to learning and providing high-quality patient-centered care each day. Many of our faculty are graduates of our program (myself included). We have a Residency Core Faculty which includes five Family Physicians and one Clinical Psychologist. We are fortunate to have an excellent residency coordinator and staff assistant who are an integral part of keeping the residency running smoothly. Our larger department faculty includes 25 Family Physicians who see patients across four counties in Southern New Jersey.  
Our training sites offer diversity in training that is hard to find at other programs. Southern New Jersey contains many different patient populations in a relatively small geographic distribution. Virtua-Our Lady of Lourdes Hospital (VOLOL), serves the city of Camden NJ. Camden is consistently ranked as one of the poorest cities in the country, and VOLOL provides care to underserved populations each and every day. There are three Jefferson Health NJ (JHNJ) hospitals which each have their own specific populations. JHNJ-Stratford is a community hospital which serves the surrounding small towns.  The demographics of this area are generally blue-collar middle class families. The JHNJ-Cherry Hill hospital has two main focuses, psychiatric care and a lot of geriatric medicine, as the hospital is located in an area with many long-term nursing facilities nearby. The JHNJ-Washington Twp hospital focuses on surgical and obstetrical care as well as serving the more affluent areas surrounding it. We also partner with the VA Medical Center (VAMC) in Wilmington, DE where our residents provide care and learn from the specific veteran's population in our region. Our ambulatory training sites provide care for patients with and without insurance, of all backgrounds and health statuses.
Our
reputation
in the community is as a program that trains the best quality Family Physicians, ready to enter practice or fellowship. We have successfully placed each resident into their desired post-residency plan- including private practice, academic practice, hospital-owned practice, urgent care and fellowship in many different fields. Feel free to check out our 
Placements page
for more information on this.
Our
outlook
on patient care and residency training. We are a program that continuously strives to make things better for our patients and our trainees. We take feedback seriously and welcome residents to bring items to our attention that could be improved. Our priority is to make sure the residents are getting the training they need and that our patients are getting the care they deserve