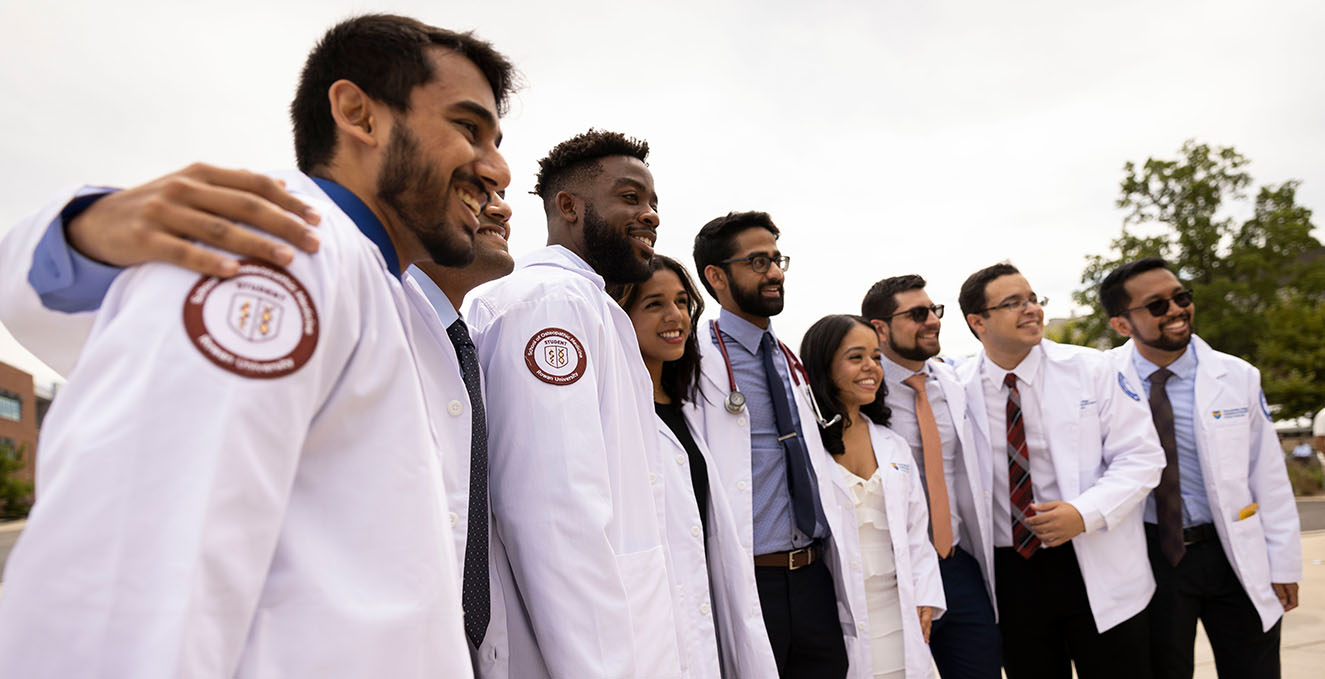 Rowan-Virtua Community Health Center
The Rowan-Virtua Community Health Center (RVCHC) is a patient-focused, free clinic funded entirely by student efforts and donations. It is staffed by physicians in the Rowan-Virtua SOM family, as well as medical student volunteers. The clinic's main goal is to ensure accessibility to high quality health care in underserved areas and promote healthy living. Review our services below and request an appointment!
Services Provided
FLU SHOTS NOW AVAILABLE!
At-home colon screening kits
Free urgent and preventative healthcare
Health education materials
Referrals to specialists when appropriate
Adult and child examinations
Work and school physicals
Chronic disease management
Free prescription program
Hearing and vision screenings
Osteopathic manipulative treatments
Sexually-transmitted diseases counseling
Smoking cessation counseling
Referrals to community resources
Stitch removal
Educational classes
Translators
(Spanish-English, other languages may be available)
** For information regarding our COVID-19 policies, please call us or email us 
More Information
​
How to Volunteer
Clinical Volunteering

We currently only accept Rowan-Virtua SOM students for clinical volunteering and shadowing. Sign-up forms for our upcoming clinic days are sent directly to your Rowan email. Volunteers are assigned first-come, first-serve. 

Non-Clinical Volunteering


We conduct a number of community events in partnership with local organizations and always need a helping hand! If you are interested in volunteering at any upcoming non-clinical events, please check your email or our social media pages.

Join a committee to assist with projects we are working on! 
How to Donate
We encourage any and all donations, regardless of amount. Because we are an entirely volunteer-run clinic, 100% of all private donations go directly to providing and improving patient care. If you would like to earmark your donation to a specific service (such as covering lab expenses for patients), please email us at rowancommunityhealthcenter@rowan.edu to confirm that it is a service we provide. 
Donation Drives


We are also accepting donations for our community resource table, which provides toiletries and other supplies to the community for free.
If you are interested in donating food (non-perishables only), toiletries, or other items to our patients, please email us directly to schedule a drop-off. ​
For more information on our donation drives, email us or check our social media pages for more information.
Our Advisors
John Bertagnolli, D.O.

Dr. John Bertagnolli is board certified by the American Osteopathic Board of Family Physicians. Dr. Bertagnolli graduated from the University of Medicine and Dentistry of New Jersey (now known as Rowan-Virtua School of Osteopathic Medicine), and currently works as a Family Medicine Physician with over 38 years of experience. Dr. Bertagnolli is affiliated with Jefferson Health-Stratford, Cherry Hill, and Washington Township.

Nils Brolis, D.O.

Dr. Nils Brolis is board certified by the American Osteopathic Board of Family Physicians. He received his medical degree from Rowan's School of Osteopathic Medicine. Dr. Brolis had served as the Family Medicine Chief Resident for Rowan-Virtua School of Osteopathic Medicine, and then continued to provide care as a Family Medicine and Urgent Care Physician. He also serves as the Medical Director of the Clinical Education Assesment Center at Rowan-Virtua SOM. 
Thank You
Thank you to our advisors, Dr. Bertagnolli and Dr. Brolis, as well as the other providers that allow us to run our clinic. Special thanks to the Commitment Community Church, the Rowan-Virtua School of Osteopathic Medicine, and our various partner organizations. Your help allows us to continue to provide the best care for our patients and community.
Please be sure to check in with us by phone or email if you have further questions. See our Facebook or Instagram for updates on related projects and events.