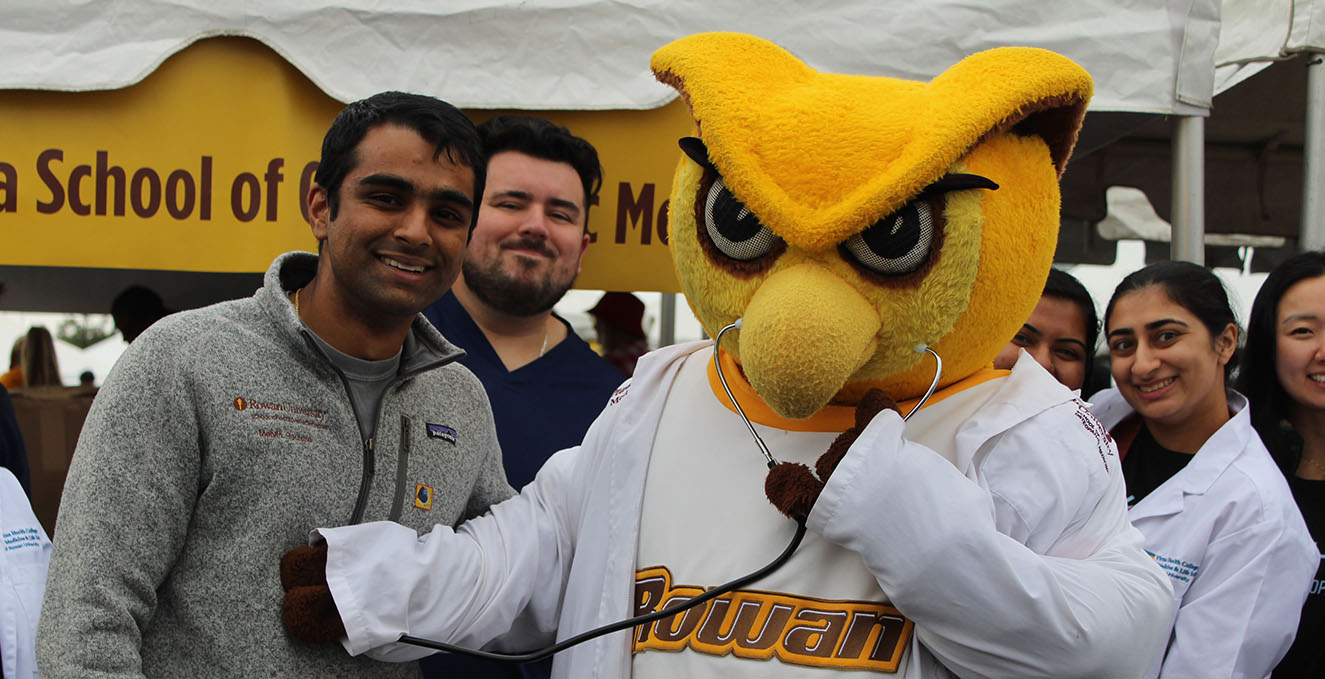 24/7 Emergency Support & Crisis Counseling
If you or someone you know is in crisis, the following services are available 24/7:
Rowan Public Safety: 856-256-4911 (ask to speak with the Counselor on Call)
Crisis Center Hotline/Oaks Integrated Care: 856-428-4357
National Suicide Prevention Lifeline: 988
Call 9-1-1, go to Jefferson Health - ER (Cherry Hill), or go to the nearest emergency room
These services give those in distress access to mental health-crisis professionals. 
Mental Health Resources
Rowan-Virtua SOM provides medical students, graduate students and residents convenient, confidential access to tailored mental health care through our Department of Psychiatry. Led by Dr. Elina Maymind, our multidisciplinary team provides psychiatric evaluations, medication management, personal counseling, specialized care referrals, and mental performance coaching. We accept Rowan-Virtua SOM student health insurance and most other private insurance plans.
Make an initial appointment through our student mental health coordinator, Ms. Barbara Pedrick, by calling 856-482-9000, ext. 2. Your call will be returned within 24 - 48 hours.
Physical Health Resources
Rowan Medicine has been delivering multi-disciplinary health care services in South Jersey for more than 30 years. Our commitment to patient-centered care is demonstrated through all of our practices, including 14 specialty areas, such as pulmonology, urogynecology and pain management.
Click here to find a Rowan Medicine physician.
Wellness and Fitness Center
Rowan Medicine's Wellness and Fitness Center provides a convenient and comprehensive fitness center, with both individual and group programs that are available to all students, faculty, and area residents. Located on the second floor of the Academic Center, the gym offers an indoor walking/jogging track, strength training equipment, cardiovascular equipment, personal training, and locker rooms.
Contact the Wellness and Fitness Center
Health Insurance Coverage
Medical students are required to have active health insurance for the full duration of their enrollment.
The University-sponsored health insurance plan, Aetna Student Health (PPO), can be waived if students provide proof of active health insurance and complete a Waiver of Insurance and Certification.
If your health insurance is terminated for any reason, or if you are about to turn 26 years old soon, please contact mitchellba@rowan.edu for health insurance options. 
Needle Stick/Blood Borne Pathogen Exposure
If you are experiencing a needle stick/blood borne exposure emergency on the Rowan-Virtua SOM campus, please call 856-566-3190. If you are off campus, please call 888-HIV-CHEC.
Health Care and Urgent Care Centers in NJ
Click
here
to view the health care and urgent care locations near clinical rotation sites.
Additional Resources
Student Lounges
Diversity Lounge
Café Lounge
Personal Study Rooms within the Library
Music/Art Rooms
Lactation Room
Meditation/Prayer Room
Examples of our Wellness Programs/ "Pop Up" Events:
Question, Persuade, Refer (QPR) Gatekeeper Training
Paint n' Sip
Virtual Cooking Classes
Pet Therapy
Seated Chair Massages
Week of Wellness
De-Stress Fest
Calming Jars
Cookie Decorating
Canvas Painting
Sand Art
Fresh For All
Pancake Bar
Chili Bar
Food Truck Fest
Ice Cream Truck
Tips & Treats
Pop Up Coffee and Snacks 
Examples of our Social, Recreational & Performance Events:
Sporting Events & All-Star Sports Clinic
Club & Class Events
Medicine Ball
Music Medicine Showcase
AAPI Cultural Show
Black History Month Celebration