DEI Spotlight
We strive to lead with diversity and inclusion in all areas at Rowan-Virtua SOM, so we proudly take a moment to highlight those at SOM who take initiative to grow their skills and share their knowledge to create an accessible learning environment for all.
2021 Excellence in Diversity Award Winners
Excellence in Diversity for the Study or Practice of Medicine
The Black Collective, Rowan-Virtua SOM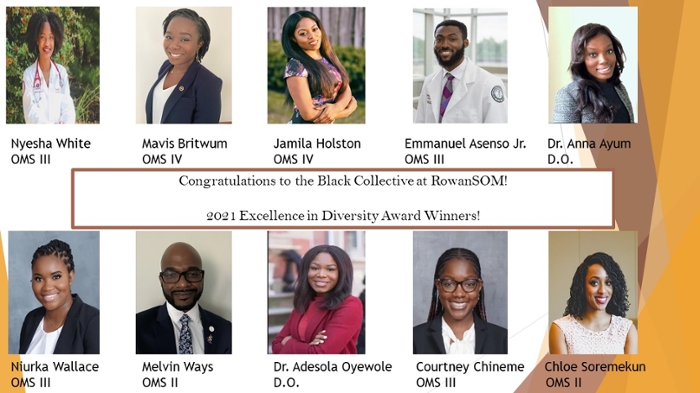 We recognize The Black Collective Rowan-Virtua SOM (TBC) for their work advancing equity and inclusion. Since 2020, the Black medical students and alumni of TBC have worked hard to identify and transform cultural and structural barriers to success for students of color in medical education. They have partnered with Rowan-Virtua SOM administration and the Division of DEI to ensure meaningful change and established mentorship networks to support students academically and professionally. We admire TBC for their persistence and commitment to equity and community!
Excellence in Diversity for Social Activism
Paula Watkins, Rowan-Virtua SOM Assistant Dean for Admissions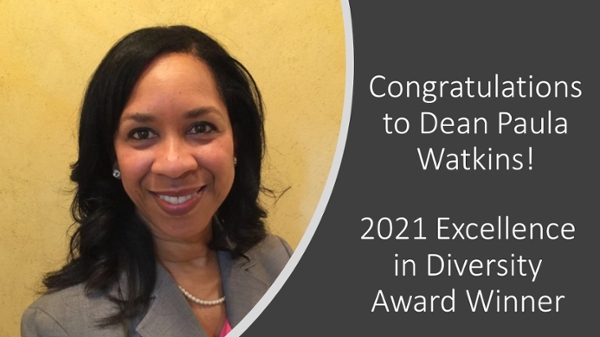 Congratulations to Paula Watkins, Rowan-Virtua SOM Assistant Dean for Admissions, for her work cultivating diverse future physicians and shaping the future in the osteopathic tradition. Assistant Dean Watkins has championed diversity through her redesign of recruitment processes, work encouraging high school students in underserved communities to pursue careers in medicine, recruitment of medical students from underrepresented groups, influencing the creation of the SOM Diversity Task Force, and lending her diversity recruitment leadership to other osteopathic medical schools through the American Association of Colleges of Osteopathic Medicine. SOM anticipates the composition of this year's incoming class to be 30% underrepresented minorities as a result of her leadership. Thank you Assistant Dean Watkins for your vision, passion, and leadership!
2020 AMA Excellence in Medicine Award
LGBTQ Health Award
Dr. Danielle Weitzer, Resident, Rowan-Virtua SOM Department of Psychiatry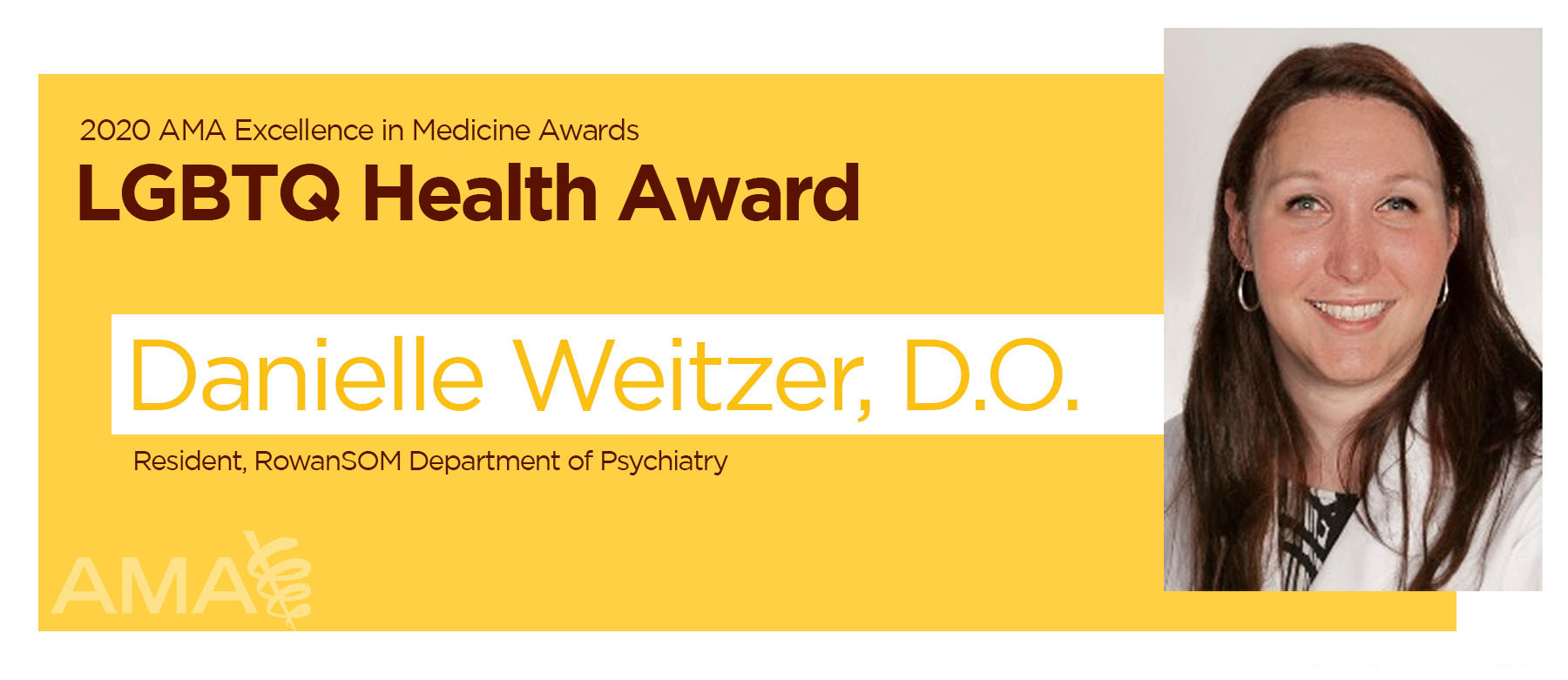 Congratulations to Dr. Danielle Weitzer, who received the 2020 AMA Excellence in Medicine Award for LGBTQ Health. You can view the award ceremony.
Certificate Completions
DEI Certificate
Pamela Basehore, Kristin Bertsch, Brandi Blanton, Danielle Carcia (Affiliate), Millicent Channell, Amanda Coltri, Danielle Cooley, Stephanie Dearden, Renee Demarest, Danielle DiPietro, Mary Duggan, Judith Easley, Allen Ecker, Yvette Flanagan, Gail Forman, Patricia Fortunato, Marybeth Foyle, Steve Garwood, Jacqueline Giacobbe, Alyssa Goetaski, Charles Greenberg, Sarah Houltze, Nigel James, Marilou Jean-Louis, Alayna Kacerja, Tanya Kadrmas-Iannuzzi, Kristine Kong, Karen Krieg, Nicholas LaTorre, Sheila Lewis, Kathleen Locklear, Allison Mancuso, Francesca Martelli, Shoshana Melman, Brittany Mitchell, Catherine Neary, Elizabeth Niedringhaus-West, Martin O'Connor, Aubrey Olson, Yvonne Ortiz, Nichelle Peaks-Webster, Joanne Petrides, Deb Podolin-Whiting, Leonard (Lenny) Powell, Brittany Quintana, Joelle Reyes, Elizabeth Santini, Robin Shemeley, Jessica Singh, Ferin Speaks, Coleen Tenuto, Venkateswar Venkataraman, Meagan Vermeulen, Rosalyn Vinson, Shiyuan Wang, Christine Willse, Regina Wilmes, Diane Worrad, and David Wynkoop
Inclusive Pedagogy and Practices Certificate
Renee Demarest: Inclusive Medical Graduate Education
Mary Duggan: Best Practices for Inclusive Staff-Led Student Programs
Patricia Fortunato: Universal Design, Health Communication, and Addiction Medicine
Steve Garwood: Captioning & Echo360 at Rowan-Virtua SOM
Nigel James: Inclusivity and Accessibility for Prospective Students at Rowan-Virtua SOM
Catherine Neary: Improving Accessibility with Signs
Martin O'Connor: Addressing the Absence of Policies and Procedures for Students with Disabilities in our Clinical Education Handbook
Yvonne Ortiz: Re-designing Medical Admissions Interviews for Inclusion of Neurodivergent Candidates
Joelle Reyes: Comparative Analysis of Osteopathic Medical School Accommodations
Elisha Stevenson: NJ AHEC Scholars Inclusive Application Process
Christine Willse: Student Financial Aid Communications Management Content for the Inclusive Audience