Supportive. Nurturing. Innovative.
Join the Rowan-Virtua SOM Family
Just as D.O.'s treat the whole patient - mind, body, and spirit - the admissions process at Rowan-Virtua SOM considers the whole applicant. Our students thrive in a supportive, small community, learning a hands-on approach to medical care that is changing the national narrative on the health care crisis. Find out how to become part of the Rowan-Virtua SOM family.
Our Application Process
Choose From Two Curriculum Tracks
Two Campus Options for Problem-Based Learning
We recognize that everyone learns in different ways. To ensure that our D.O.s are successful, we offer two curriculum tracks for Pre-Clerkship: Synergistic Guided Learning (SGL) and Problem-Based Learning (PBL) While both tracks provide comprehensive study, they each approach them from a different perspective and learning style.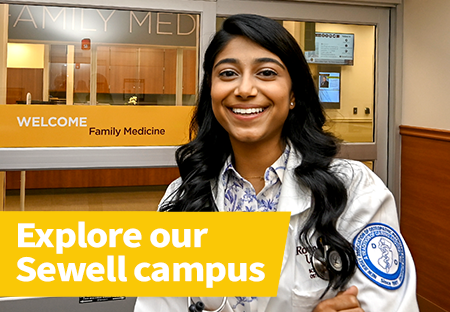 Our SGL curriculum model is offered only on the Stratford Campus, whereas the PBL curriculum model is offered at both our Rowan-Virtua SOM Stratford Campus and our Rowan-Virtua SOM Sewell Campus. More information and guidance on how to select a location to continue your education is available in our FAQ.
You are encouraged to explore the links above that detail the tracks and locations, as you will have an opportunity to select your first-choice of curriculum (SGL or PBL) on our supplemental application. Selection of either tracks will require completion of two short essays:
Please prepare an essay that explains why you want to participate in the Problem-Based Learning (PBL) Curriculum or the Synergistic Guided Learning (SGL).
Please prepare an essay that explains why you think you would be a good fit for your selected curriculum track.
An essay is not required if you select "No Preference."
*Acceptance to Rowan-Virtua SOM is not determined by the student's curriculum track selection and placement into a selected curriculum track and/or location is not guranteed.
Apply Now
Rowan-Virtua SOM By The Numbers
Rowan-Virtua School of Osteopathic Medicine is consistently ranked one of the top osteopathic schools in the United States. Below are some of our 2023 statistics to help you determine if Rowan-Virtua SOM is right for you.
Scores That Matter
Our students thrive with a strong support system and camaraderie that helps them become the best doctors they can be. The average COMLEX scores and Match results of our students set them up for success beyond medical school.
COMLEX Pass Rates
Rowan-Virtua SOM students consistently score at or above the national average. Our most recent COMLEX pass rates:
95% - COMLEX 1
97% - COMLEX 2
99% - COMLEX 3
99% Match!
We boast a 99% GME placement rate for 2022 among our graduates. Our top three specialties:
Internal Medicine - 26%
Family Medicine - 16%
Emergency Medicine- 12%