Rowan-Virtua SOM's Curriculum
Tensegrity and Osteopathy
Medical schools must constantly evolve to adapt to rapidly changing environments and advances in medicine. We have developed a transformative curriculum to train today's medical students, so they can prosper at the highest levels of medical excellence for the next 30 - 40 years.

In osteopathic medicine, the concept of tensegrity refers to the balance of forces in the musculoskeletal system that help keep the body stable and efficient in mass and movement. The Tensegrity Curriculum is an integrated, balanced program that trains future physicians to treat the whole patient and promote health by addressing their mental, physical and spiritual well-being.
Highlights
Pre-Clerkship
A variety of components are integrated within established courses and clinical experiences. The four core components are:
System Blocks, Intersessions, Osteopathic Clinical Skills (OCS) and Longitudinal Project-Based Courses
. Intersessions and Longitudinal Project-Based Projects offer students the opportunity to focus on topics that are considered cornerstones of osteopathy. An overview of Pre-clerkship curriculum features:
Circular-pass integrated systems, combining basic sciences with clinical medicine (SGL track)
PBL students will continue in the double-pass systems based model and will incorporate the new courses and features included in the Synergistic Guided Learning (SGL) track. These courses, such as Osteopathic Clinical Skills (OCS), are synchronized with the systems model of PBL.
Expanded training on leadership and teamwork
Emphasis on prevention and health equity
Increased procedural training, including point-of-care ultrasound
Formative assessments through BRIDGE Weeks across four years
Amplified Medical Scholarship curriculum
Twelve elective Areas of Distinction for increased study special interest
Learn About Your Track Options
Each block covers basic, clinical and medical practice disciplines through system-based study.
Anatomy
Clinical Medicine
Genetics/Personalized Medicine
History Taking and Diagnosis
Microbiology/Infectious Disease
Osteopathic Principles and Practice
Pharmacology
Biochemistry
Ethics/Professionalism
Histology
Imaging/Radiology
Neuroscience
Pathology
Physiology
Prevention
Are you interested in a sample schedule or want to find out about student life in your pre-clerkship years?
Learn More
Clerkship
The required core clerkships are under continuous development and improvement. A few of the highlights of our new clerkship curriculum include:
Longitudinal Community Service Learning and Community Projects
Geriatrics Clerkship at nationally-ranked NJISA
Neuromuscular Medicine/Pain Management Clerkship
Osteopathic Manipulative Medicine Clerkship
Residency Clinical Skills Clerkship (residency procedural "bootcamp")
Four-week Intensive Care Unit selective - ICU/NICU/PICU/SICU
Clerkship Clinical Skills
Learn More
BRIDGE Weeks
These weeks occur a total of four times over the course of your medical school education: twice in the first year, once in the second year, and once in the third year. These weeks are designed to give formative feedback on knowledge skills and attitudes, accumulated by set points based on benchmarks determined by faculty and the assessment department.
BRIDGE week assessment activities include combinations of several core elements:
Building skills: Osteopathic Integrated Exam Review (OIER) and formative Standardized Patient/OSCEs with feedback
Reflecting: Self-reflection, Peer-to-Peer Evaluation
Integrating: Integrated Foundational Science Individual and Group Assessments
Developing: Formative Biomedical COMAT Exams
Goal setting: Academic review with coaching
Evaluating: Summative Biomedical COMAT Exams, Summative Standardized Patient/OSCEs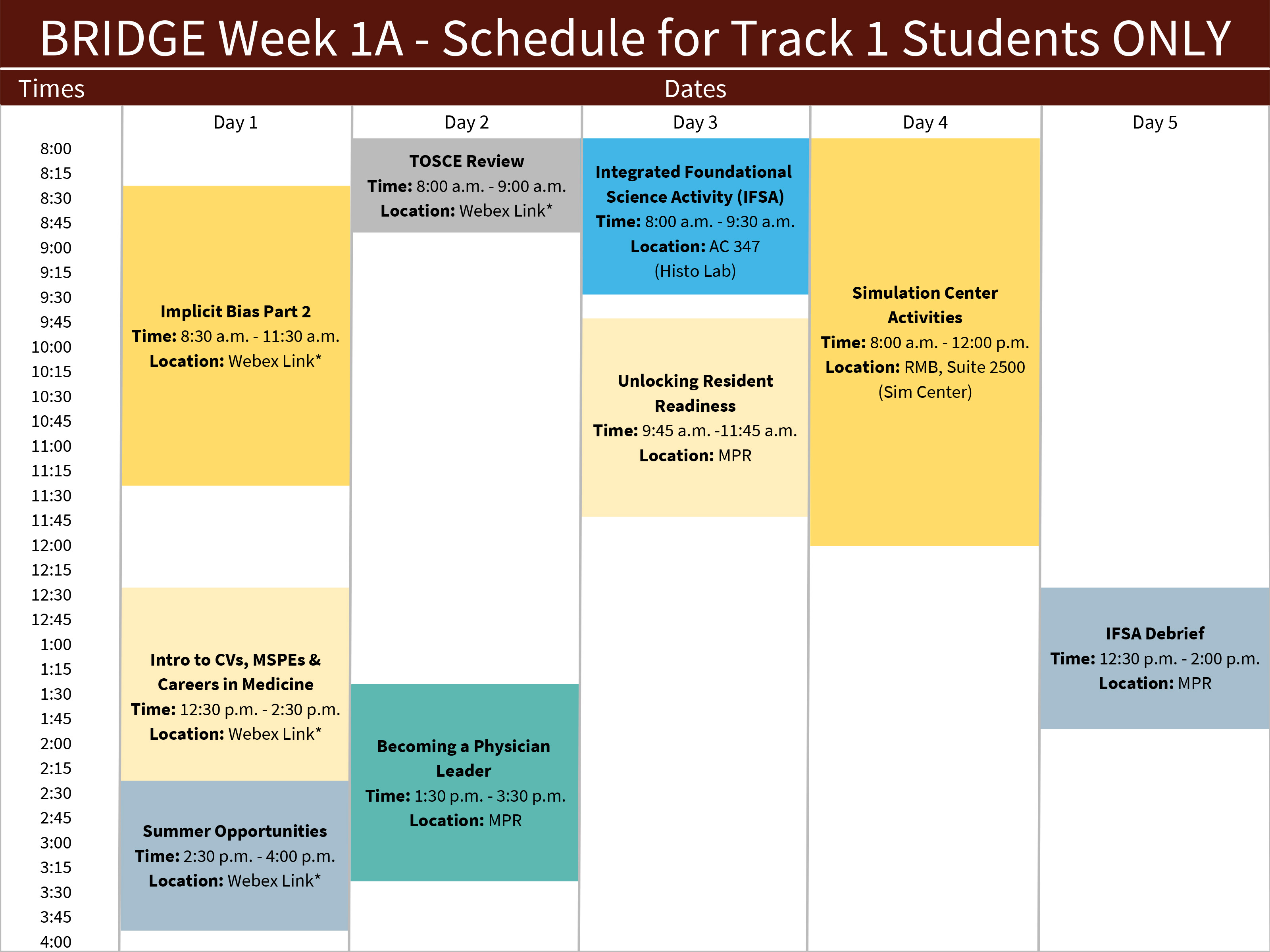 *Schedule subject to change
Download schedule